By Darren Stones
I offer for sale a range of high quality print products which feature places along and near The Long Paddock touring route in New South Wales, Australia. Items can be purchased online and via personal communication with me. Each product can be delivered to your nominated postal address and a money back guarantee is offered.
Products
Greeting cards
Laminated prints
Matted prints
Mounted prints
Canvas prints
Framed prints
Posters
Calendars
See The Long Paddock gallery where my photographs can be purchased as products via RedBubble.
Gallery:
The Long Paddock, NSW, Australia
Framed Prints
Finely-crafted custom frames create stunning art pieces from RedBubble prints. Frames are crafted from quality timbers in a range of finishes. A white, off-white or black matte surrounds the print to emphasize the artist's work and bring the piece to life. Premium ultra-clear perspex in front provides a superior finish and means the piece is lighter and easier for you to move without breaking.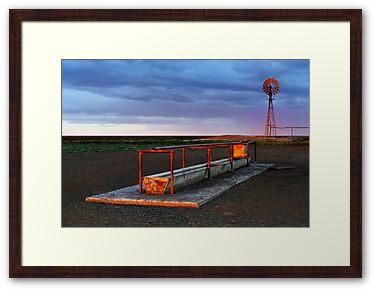 Cattle Trough - Hay Plains
Medium size framed print
Mocha box frame
Off white matte